Partnering with Sew Love is a great way to make major difference in the life of a young adult, youth or child in Rwanda & Africa.  Every dollar donated goes towards providing for the Sew Love Family – housing, food, medical, staffing, school fees, transport to school.  We never use donated funds for administrative costs.
As our family members grow in their ability to take responsibility for providing for themselves, we help walk them through transitioning into adulthood – and being responsible for their own expenses.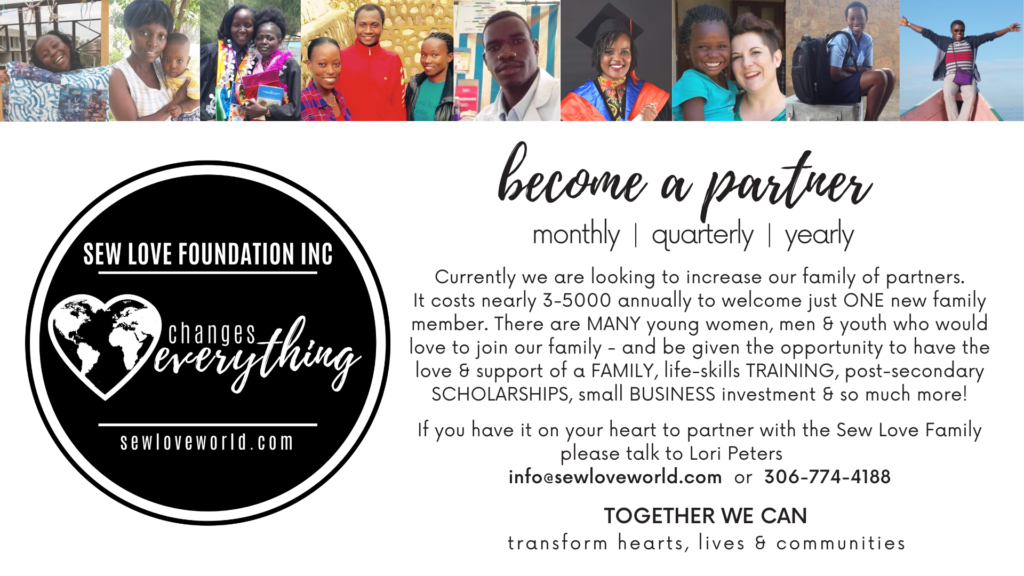 A very simple and economical way to give is via e-transfer.  We have auto-deposit – so there is no need for a security password!  
Access your online banking and add Sew Love as a contact.   
Sew Love is a ministry of Victory Family Church of Swift Current, SK.  We use a secure, trusted giving platform called Subsplash.  You can give one-time, or set up monthly giving with your credit card or visa-debit. 
Don't forget to select Sew Love Foundation as the designation in the drop down menu. 
The most popular way for our partners to give is monthly pre-authorized payments directly from your bank account.  This is the most cost effective way for Sew Love to process your donation.  
To set up pre-authorized payments you will need to complete this online form.